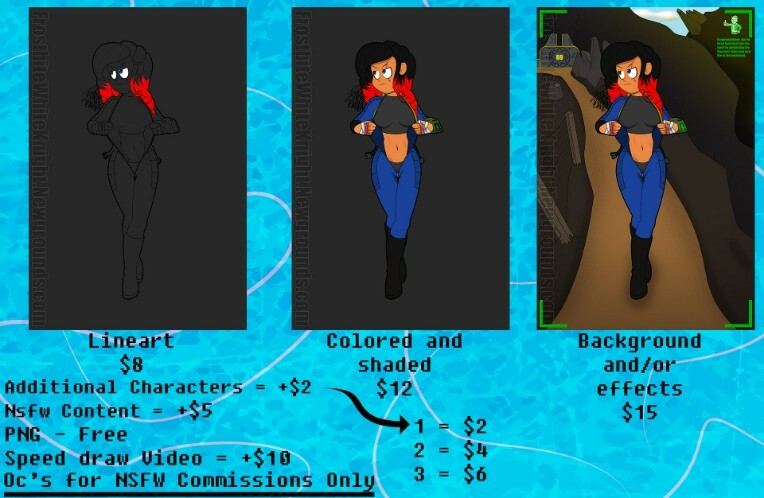 The prices are as follows:
Line Art - $8
Colored - $12
Background and/or effects - $15
Additional Info:
Png's - FREE
Additional Characters - +$2
NSFW Content - +$5
Speed Draw Video - +$10
If you're Interested, please send me a note/private message, and We'll discuss the price and character(s) you'd like to add in the commission.
RULES FOR COMMISSIONS
NSFW Commissions are for OC's ONLY
No weird Kinks for NSFW commissions(For example: inflation, foot fetishes, diaper fetishes, Vore, etc.)
The Character in the commission can be anything, human, alien, Sonic OC, My little pony OC, etc.
Fee's will be paid for AFTER the Commission is finished, so please hold your money until the work is done.
The Commission will be posted through my social media(DeviantArt, Twitter, Patreon, And NewGrounds) unless you wish to keep the Commission Private.
You must have a drawn reference for the character(s) you want in the commission(hand drawn, digital, etc.)
Speed Draws are for SFW Commissions ONLY(youtube's not too keen on NSFW Speedpaints)

And that's all for the Rules, So please if you'd like to support me through a commission, it would mean the world to me. If you can't afford a commission but still want to Contribute, consider donating to my Kofi account Right here: https://ko-fi.com/frostbitecoffee
Thank you for your time, and I will see you guys later, Stay Frosty.
Twitter: twitter.com/FtWK_comic
Deviantart: www.deviantart.com/frostbitewhiteknight
NewGrounds: https://frostbitewhiteknight.newgrounds.com/
Curious Cat: curiouscat.me/Frostbitewhiteknight